THC-Hydra is a parallelized network logon cracker which supports numerous protocols to attack, new modules are easy to add, beside that, it is flexible and very fast. Description: Finds lost password to RAR/WinRAR 3.x archives. Uses optimized algorithms for maximum performance on Intel and AMD CPUs. Uses GPU computations on modern. World's fastest password cracker; World's first and only in-kernel rule engine; Free; Open-Source (MIT License) Multi-OS (Linux, Windows and OSX). Every package of the BlackArch Linux repository is listed in the following table. If you don't find your needed tool in this list simply open an issue. Uncrackable: Secure Your Secrets with 4096-Bit Encryption. As you progress in the world of information security, you'll find yourself in situations where. Crack 95 characters per position, length 8 plaintext in 10 minutes 2. Test 12,000,000 million plaintexts per second 3. Based on time memory tradeoff. Wifi password cracker free download. Gmail Password Hacker Cracker Hack any gmail password crack with this cracker hacker in 2016 free download how to hack gmail.
We have prepared a list of the top 10 best password cracking tools that are widely used by ethical hackers and cybersecurity experts. These tools include the likes of. Fern-wifi-cracker free download. 7z Cracker Did you ever forget the password of your 7z archive? 7z Cracker is a, at the moment only numeric.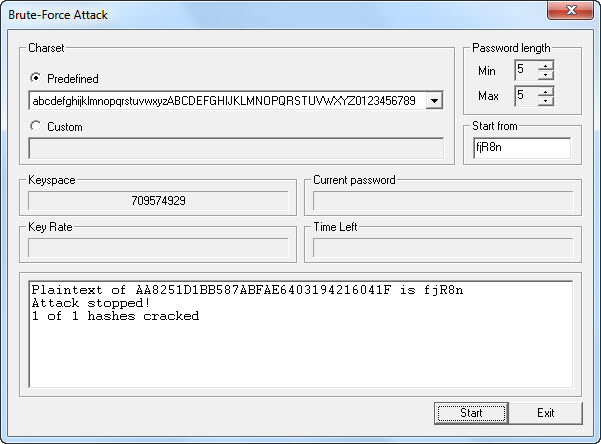 John the Ripper GPU support .
Fast, tested password recovery for with benchmarks and review. Download freeware, shareware and trial password recovery utilities.
Open. CL / CUDA Test – Geeks. D1 – ocl. Hashcat Overview.
A new version of ocl. Hashcat is available.
It seems the Open. CL version is only limited to Radeon cards. I tried to use it on the GTX 5.
Then no apple- to- apple comparison but only Open. CL / Radeon vs CUDA / Ge. Force. Just install Catalyst 1. APP and you're ok.
Graphics drivers used: – Radeon driver: Catalyst 1. APP version for Open. CL support)– Ge. Force driver: R2. Graphics cards tested: – ATI Radeon HD 5. EVGA GTX 5. 80 Superclocked– SAPPHIRE HD 6. NVIDIA Ge. Force GTX 4. Tests. For Ge. Force boards I launched cuda.
Example. cmd and ocl. Example. cmd for Radeon boards. Here are the performance (GPU speed): – one GTX 4. Hidden Object Games Free Downloads Full Version Unlimited read more. M c/s– one HD 5. 87.
M c/s– one GTX 5. M c/s– two GTX 4. M c/s– one HD 6. 97.
M c/s– two HD 6. 97. M c/s. Radeon HD 6. GPU. The performance of the HD 6. I'm sure we'll see performance boost with future drivers) and according to this test, one Cayman is faster than two GF1.
The Radeon HD 6. 97. For regular 3. D this is a normal requirement, but we are talking about GPU computing. In Open. CL, each GPU is a compute device and then a system with two Radeon HD 6. With NVIDIA this is the case. No matter the SLI state, if you have two GPUs (let's say two GTX 4. NVIDIA Open. CL or CUDA will see two compute devices: GPU Caps Viewer – two GTX 4.
Open. CL compute devices, SLI disabled. With AMD Open. CL implementation, here are the compute devices detected (two HD 6. Cross. Fire is disabled: GPU Caps Viewer – two HD 6. GPU Open. CL compute device, CF disabled.
As you can see, AMD's Open. CL sees only one GPU compute device (the second device is a CPU compute device, keep in mind that AMD offers both GPU and CPU Open. CL support). To see two compute devices, Cross. Fire must be enabled: GPU Caps Viewer – two HD 6.
GPU Open. CL compute devices, CF enabled. That explains why ocl. Hashcat uses only one GPU when Cross. Fire was disabled. I also did a test with a HD 6. HD 5. 87. 0 but as expected, only the Cayman compute device has been recognized by AMD's Open.